The Future of Accounting and What VC Learned at Accountex 2022
Our VC team were thrilled to be at Accountex London 22 last week at the ExCeL after the unprecedented two-year break necessitated by Covid-19. It was wonderful to see some of our loyal long-standing clients and to meet with some new individuals and businesses in the accounting community who could really use VC to help their company run smoothly.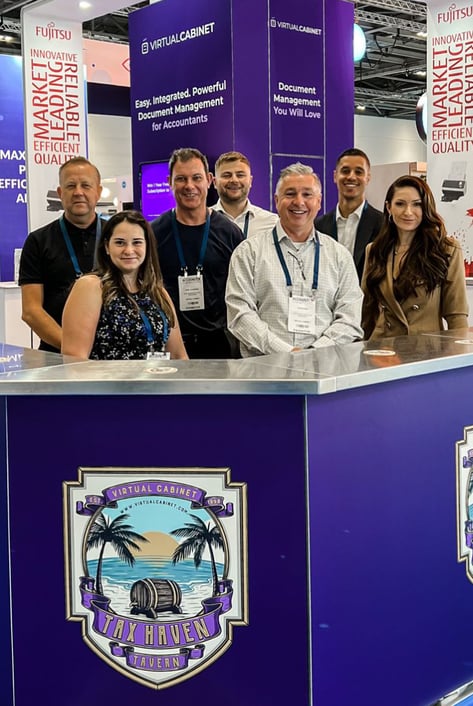 If you were lucky enough to get a free drink from our Tax Haven Tavern bar on either (or both!) days, congratulations and we wish you luck in our prize draw to win a year's free access to Virtual Cabinet DMS or VC cloud content management. We weren't there just to take the tops off cold beers and book demos of our Document Management Software though. We also spent some time checking out the seminars to get a better idea of what the future of accounting and the finance industries might look like and brush up on the latest accounting technology news.
We wanted to know which challenges accounting professionals will be faced with in the next few years and specifically which ones they're most concerned about. Virtual Cabinet has always had a strong bond with the accounting industry, due to the way our document storage solution and client portal integrate so smoothly with all the major Practice Management software used by accounting firms. Because of this, we feel it's our responsibility to continue to look after our clients and help them to look to the future with confidence.
So, what did we learn from Accountex this year? Let's find out...
What the Future of Accountancy Looks Like
Gordon Gilchrist of 2020 Innovation delivered his keynote speech first thing on both days of the conference. It was entitled "The Future is Bright...but it Looks Different" and some of his ideas and predictions for the future of accountancy made us really stop and think. He spoke eloquently about the intrinsic digital changes that are irreversibly here to stay and advised on how an accounting firm could feasibly increase their revenue, improve client relationships, and plan for the future without breaking a sweat.
In terms of the pandemic, Mr Gilchrist suggested that there were plenty of positives to come out of it for accounting professionals. He stated, "I think our clients love us more than they even did before." Despite the financial uncertainty Covid brought, accountants have rarely been so busy as they were at the start of lockdown. It was a case of long days and "all hands to the pump", as Gordon Gilchrist put it, but it has resulted in a widespread, and great respect for accountants from Mr Joe Public. Having a trustworthy person at the end of the phone who can advise when things get tough became suddenly more valuable than gold during the pandemic, and we don't see why that should change now. After all, the financial forecast isn't exactly improving.
According to Mr Gilchrist, the things accountants most need going forward are:
Let's discuss what's meant by these terms.
The Right Technology
Gilchrist mentioned that while it's never been so profitable to be employed in the accountancy sector than it is now, it's also more vital than ever to be using your professional time to the most of its potential. Maximising not only your own efficiency, but your team's productivity is the key to making more money without expending more effort.
The pandemic forced a lot of businesses in the accounting profession to hastily adopt software and tech that could keep them in business and enable them to work remotely without putting a stop to trading. While taking the time to research, compare, and eventually adopt these systems into our tech stack would have been the pre-Covid norm, companies had to act faster rather than smarter at the time to keep their heads above water.
Now time has moved on and the workload hasn't lessened for many accountants, so re-evaluating the efficiency of their systems and business processes hasn't made it to the top of everyone's priority list yet, but it should. In Gordon Gilchrist's words, "the overload is here, and it's growing […] and we need to become more efficient through tech."
Not all technology is created equal though, and the price is not always the best indicator of quality. He encourages the accounting professional community to do what they do best and audit, but audit their own systems and resources. Analyse where there are gaps in your software. Where does a solution need to be dropped in to bridge the tech stack gap and where do old systems need to be replaced? The short term hassle can be a real turn-off but as Mr Gilchrist put it, "tech rewards scalability". That is to say, without the right technology in place to maximise your time and support your efforts, you simply cannot grow or keep up with demand.
Rob Brown explains in the Accounting Influencers Podcast that "what businesses are looking for now […] is steady and sustainable change". Hasty adoption of tech is no longer the norm for accounting businesses as more of a measured approach is being adopted when choosing tech. According to Rob Brown, "digital transformation is no longer a choice. We know that we need it, but the acceleration we were thinking about before, that's not materialising properly." Therefore, it's vital that you slow down and take stock of where there are gaps in your tech stack, or where things can be simplified, and above all, prioritise the capabilities of any software you consider to grow with your business.
The Recruitment Crisis
So most people are aware that there is a clear deficit in the number of qualified practising accountants versus the sheer scale of demand for their services. It's not all bad news though. Sure it's hard to hire enough qualified people to manage the surplus of workload, but (to paraphrase Mr Gilchrist) this also means that you are in a world where the accounting professional is worth more today than they were yesterday, and tomorrow, you'll be worth more again. That's not such a bad situation.
Still, there is no denying that there is more accountancy demand than there are accountants to meet it and this needs addressing as one of the issues facing the industry. So, what can you do about it? Well, there isn't an obvious cure to convince people to train in the accounting profession, but you can start with retaining your talent. As an employer, a skilled workforce problem is definitely your problem because you can bet there'll be some enticing incentives out there to encourage your employees to jump ship.
Retaining your workforce is just as important as attracting new blood, so it might be a good time to evaluate the amount of pay your employees are currently getting and do a thorough review of your work culture, ethos, and benefits. Do a soft job search in your area or see our report on what accountants earn by UK city, to see what the average wage for accountants is and get an idea of how your business competes from the perspective of a prospect and current employees. If you're nowhere near the front runner for incentives then people aren't going to bet on you and eventually your loyal supporters might stop banking on you too.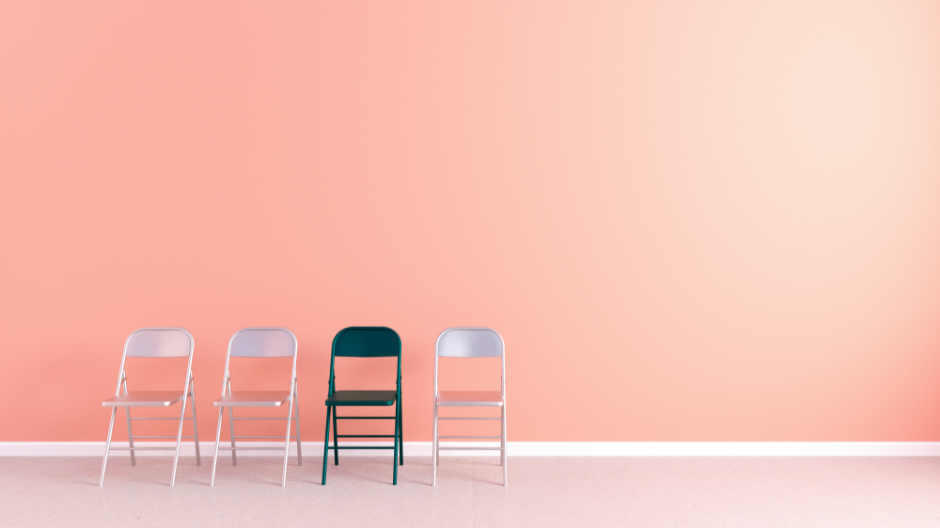 Des O'Neill from CPDstore claims that the key to appealing to accounting professionals now is to consider your ethos and work culture. He comments on the "great resignation" in episode 81 of the Accounting Influencers podcast: "when people are working now, they're not working for a wage anymore […] they need career development. They need fulfilment." In other words, if you can't offer more than just a wage to your employees, you're not going to be their first choice.
Diversification of Services
Gordon Gilchrist claims that what your client base wants more than anything from their accountant right now is some proactive future planning as a service. This may strike you as odd because there are plenty of business advisory professionals, Independent Financial Advisors (IFA), and finance professionals out there who are just the people for that job, not you, but when you think about what a client really wants from a financial advisor it couldn't make more sense. The number one thing a client wants in their advisor is proven trust. Accountants are advisors whom people trust and data suggests that SMBs are often more likely to value the advice of their accountant over that of their friends and family.
What's more, 87% of those surveyed by Onpay in 2019 said they agreed that their accountant is a trusted advisor to who they can turn for a variety of business advice. 53% of that number said they strongly agreed with the statement. So should accountants offer business advice for free now along with all their other work? Certainly not, but it may be worth considering that existing clients are more likely to pay for your advice on their business strategy than pay an unknown financial professional who is perhaps more qualified. That's because they trust your motives and believe that you have only the interests of the client at heart. Other financial industries simply can't claim the same level of respect and trust.
One takeaway for us from Accountex is that offering a variety of accounting services like tax planning, financial planning, and even informal HR advice will be well received by your clients. Gordon Gilchrist said at Accountex that he knows exactly what your clients want, and since we're addressing accountants, it's just as well to do it in statistic form. So, here is what your clients really want from their accountant:
11% want more clarity of fees - Well, that could have been worse.
24% want more contact with you - You'd better add them to your Christmas card list to start with.
24% want improved promptness - This might have a little something to do with the accountant shortage.
41% want you to be proactive in planning for their future - So over 40% of your clients want your advice on their business trajectory and financial planning.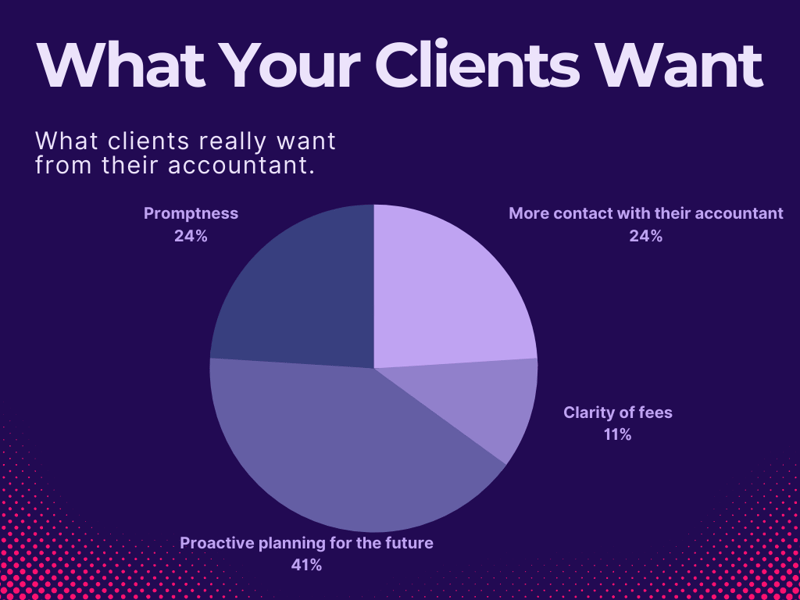 So there you have it. Numbers can sometimes be manipulated and persuaded, but they don't lie. Advice as an accountant and as a fellow business owner is what your clients want from you. So, it's your turn to stand and deliver (or sit and deliver - that's your call).
Sustainability in Accounting
This was not in Gordon Gilchrist's seminar, but the Grow Greener seminar hosted by ACCA was an eye-opener about how the accountancy industry is taking their business's carbon footprint and ecological effect on the planet seriously. As a paperless solution for many industries, we've always had a great passion for encouraging companies to challenge the status quo and go greener for everyone's sake. At VC, we're always challenging our habits as a company to see where eco-conscious changes can be made.
The sustainability issue is a whole other kettle of fish so we won't discuss every facet of it now, but some of the interesting suggestions from the Grow Greener panel regarding making your accountancy practice more eco-friendly were:
2nd hand office furniture - it's just as good, half the price, and diverts perfectly useful items from unnecessary landfill.
Dedicate 1% of revenue to worthy causes - no, there's possibly no financial benefit for you in doing so, but then again accounting isn't the only industry that's taking the green revolution seriously. James Lizars says that "new client relationships have come to us specifically because of how we approach the world." So, supporting community or ecological causes doesn't necessarily have to equal a loss in economic profit.
Get on the B - Corp website - it's full of practical advice for business owners who wish to be a part of the solution rather than the problem.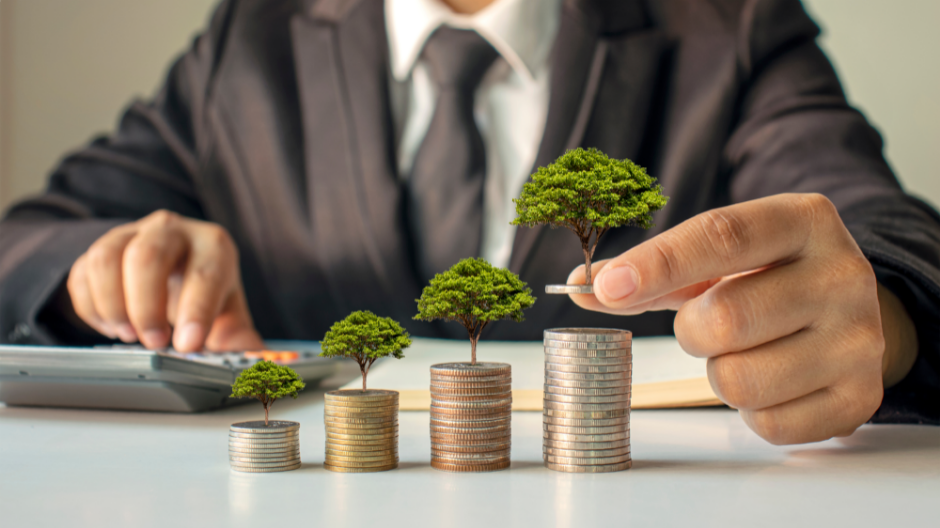 Final thoughts
We've talked about what we learned at Accountex regarding the future for accountants and what they're preparing for, but how can VC help the accountancy sector overcome the challenges of the future? Well, we're always improving and growing to meet the demands and challenges of the market so by all means let us know your suggestions for improved functionality that will directly help you.
In the meantime, allow us to bang our own drum a little and outline some of the ways we currently support the accounting world. To start with, we are one of the only Document Management Solutions that can truly turn the myth of a paperless accountancy firm into a reality and it's not just real, but easy to use. The time wasted on physical filing is a thing of the past now with our digital filing system with automatic email capture and our client portal allows binding signatures to be exchanged in seconds without stress, printing, or having to lick a single envelope.
Virtual Cabinet also stands a head and shoulders above other so-called Document Management Solutions because we are not an add on or an afterthought. We are a pure Document Management Solution that's designed to effortlessly integrate with all major Practice Management systems, and then a few besides. We do what we do best and securely look after your data and give you the ability to easily create comprehensive audit trails to ensure data compliance. We work hard to make our products work for you and we stick with you at every step so there's no need to worry about a stressful adoption process slowing you down. We're here for you, to make you happier and more productive at work.
If you want to prepare your accounting practice for the future why not check out Virtual Cabinet's Document Management Software to streamline workflows, improve productivity and waste less time at work?
FAQs
What Technology Do Accountants Need?
Accountants typically spend most of their time in their Practice Management system and all other software must fit around that. A Practice Management System will help accountants improve their client experience and ensure that all their client information is accessible in one place.
Depending on what types of accounting services a particular accounting firm offers they might also use payroll software, secure document management systems, spreadsheet software like Excel, and automatic accounting software.
How Can my Accounting Practice Make More Money?
Despite the fact that the demand for qualified accountants surpasses the actual supply of accounting professionals, many firms don't feel they make as much money as they should in return for their hours. During the Covid-19 pandemic, many accountants refused to put their prices up. Despite the increased demand for accountancy services, the accounting community decided that charging more for their services when people and businesses were struggling and faced so much financial uncertainty was morally wrong. But what now?
With the cost of living crisis hitting hard and no promise of improvement, can accountants really afford not to charge what their worth? It's certainly worth a thought about whether now is the right time to put your costs up and how to go about it.
Many accountants are finding that their clients expect a wider variety of financial services from their accountant than in times gone by. This is an opportunity to diversify and clearly define what you charge for each specific service. Many clients expect their accountant to be able to engage in business advisory, not just as an accountant but as a business owner too. Why not charge for it? Schedule an hour and call it a business strategy consultation. Making a casual service that you'd normally perform for free a defined service with a fixed fee is one way you can make more money without really doing anything differently.
What Is Sustainability in Business?
Small businesses are said to account for 50% of business-driven emissions. We all know that we need to recycle more, waste less, and reduce our carbon footprint where possible, but for some reason, this principle has been slow to translate to the way we work. As a rule, we seem more willing to adopt greener practises at home than at work.
Sustainability refers to taking stock of a business's work processes and consumable resources and trying to make eco-friendly and environmentally conscious choices. Most business decisions are driven by monetary factors over all else, but the ethos behind a sustainable business is to order your priorities in the following order: People, Planet, Profit. Making business decisions in this way can lead to a better world for everyone in the long run.