We Look at The Best Cities for Accounting Jobs and Courses in the UK
Accounting: the process of recording financial transactions pertaining to a business. A profession nearly as old as money itself. With accounting history dating back to ancient civilisations in Babylon, Mesopotamia, Egypt, and the Roman Empire, recording data has always been a notable pursuit. In 1880, the first modern profession of accounting was formed: The Institute of Chartered Accountants in England and Wales created many of the systems that accountants practice today.
To those outside the industry, it may seem dull, boring, and uneventful. But accountancy is actually one of the most fulfilling careers. It is one of the key functions to almost every business and, without proper financial health checks, a business can quickly get into trouble. With their analytical minds, interpretation and adaptability skills, and excellent communication skills, accountants are the foundations of any business structure. They are integral to informed business decisions, profitable growth and rigorous, financially secure measures.
There are many different ways to enter an accounting profession, from studying an accounting degree at university to securing an accountancy apprenticeship. If you're already in the profession, then you'll understand the hard work and dedication needed to progress through your training. Whatever stage you're in of your accountancy career, you may be wondering, what's the best city in the UK for accounting jobs?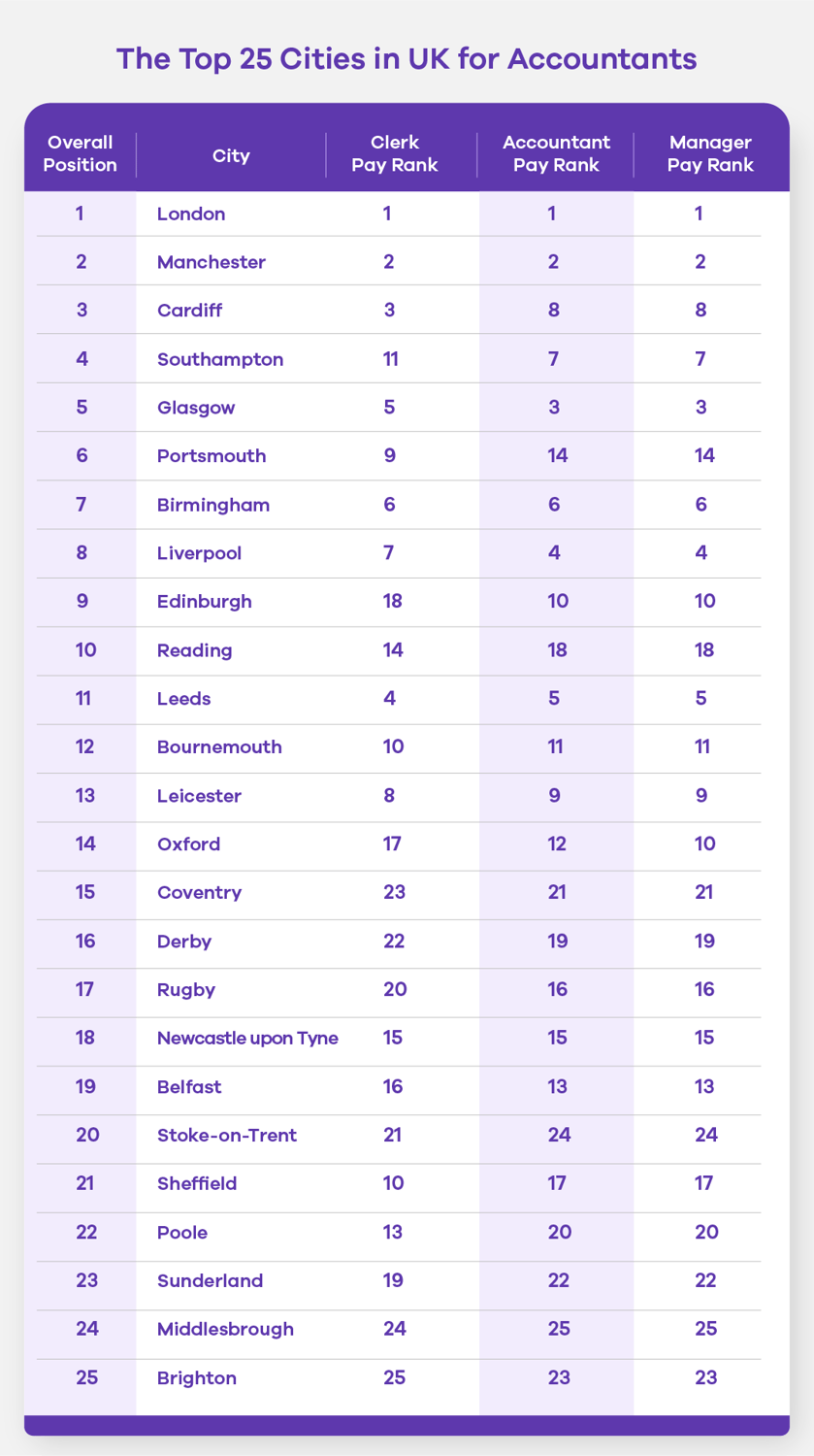 The Top Three Accountancy Cities
Based on our calculations and sources, London, Manchester, and Cardiff are the top cities in the UK for accounting jobs.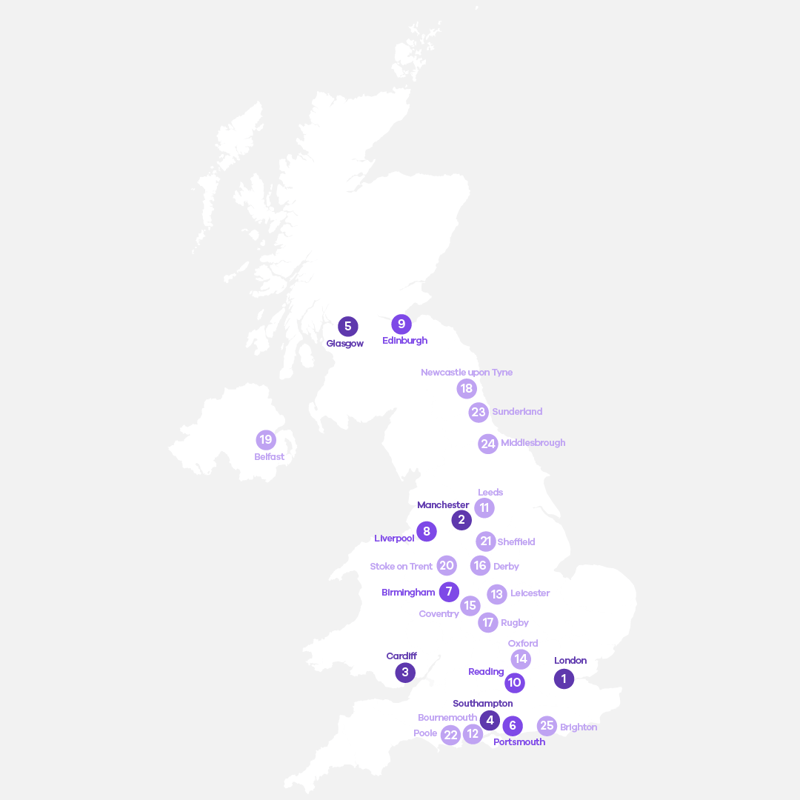 London
It's no surprise that London has come out top for the best city for accountancy. As England's capital with a population of 9,304,016 people, there is a plethora of businesses and opportunities. London also has a world-renowned financial district: the historic City of London is home to some of the most notable office towers of the financial sector, including the Gherkin and the Shard. London also has the most accounting courses, with a staggering 169 training courses available through various establishments. The second city on our table with the most accountancy courses is Liverpool with 67. So, if you're looking for the best city in the UK for accounting degrees then London has the most on offer.
The capital city pays the most for accountancy work, with its average salary for an accountant clerk, accountant and accountant manager sitting well above the UK's national average. However, London is also the most expensive city to live in. Rent prices have steadily increased over the past decade and the average house price is now at an eyewatering £704,138*. Cost of living for both families and singletons is also the highest in London.
Day in the life of an accountant living in London
Damian Connolly
As an accountant living in London for a number of years, there is no other place I would rather live in the UK. Being originally from Ireland with a bit of a 'globe trotting' mindset, once I qualified as an accountant, London was the first place that came to mind to start my professional accountancy career. Living in London as an accountant provides some fantastic work (and life) experiences, not all of which are positive, but are just part of the whole experience of a London lifestyle.
However, to get any of the professional opportunities that London provides, you are not only up against the best candidates that the UK has to offer, but also the best that Europe and the rest of the world has to offer as well. So, to be successful here, you need be good and prepared for hard work to stay there!
In London, the pay may be significantly higher than in other cities in the UK, however my experience is that salaries do not necessarily match the costs of living in London. Rent and travel can easily be between 40% to 50% of your monthly salary, and the most common living arrangement is a few years spent renting with a 'revolving door' of three or four other young professionals. On the other hand, London has a much more vibrant social life where you can mingle with others from all corners of the globe. Plus, let's not forget that Birmingham, Brighton or Manchester cannot compete with the view from St Pauls.
Manchester
Known as the birthplace of the industrial revolution, Manchester combines heritage with a progressive, modern vision. It is now the second largest city in the UK with a population of just over 2.7 million, beating Birmingham by 100,000 people. Home to some of the world's best-known artists, musicians, scientists, and sports personalities, it is a major cultural hub that attracts thousands of visitors and residents every year.
Despite its youthful population, Manchester only has around 15 accounting degrees available. However, even with the low number of accounting courses, Manchester pays above the UK's average for accounting jobs. The second city also has a relatively cheap cost of living for both families and singletons. So, if you're looking for a cheaper alternative to London, with plenty of culture and things to do, then Manchester could be for you.
Cardiff
A surprise entry to everyone on our table. Ranking at number three of our top cities in the UK for accounting jobs is the capital city of Wales. Known as the 'Land of Castles', Cardiff ranks so highly because of its accountancy incomes, accounting courses, and cost of living. To put it simply, Cardiff is a perfect all-rounder!
Despite there only being 12 accounting courses available throughout the city, Cardiff clearly pays its accountancy staff well, as their average accountant wage is above the UK national average. It also has around 605 financial businesses within the city, which is an average score out of the 25 cities we ranked for. If you're after an accountancy career that combines a city with bundles of creativity and great financial opportunities, then Cardiff might be for you.
Accountancy Cities That Are Taxing To Live In
At the bottom of the table, we have the cities that may need some investment in their accounting jobs.
Sunderland
Our third to last city on the table, Sunderland, has a depressingly low number of accounting courses. With only two courses available, Sunderland is only just performing slightly better than Newcastle-upon-Tyne, which has one accounting course available in the whole city. With a population of 341,366, Sunderland is one of the smallest cities on our list. Despite this, it has one of the highest unemployment rates of all the cities on our list. The UK average is 5%, whereas Sunderland's unemployment rate is 6.9%.
Middlesbrough
Unfortunately, Middlesbrough ranks the lowest on nearly all of our parameters. Like Sunderland, this industrial city has two accounting courses. Plus, it only has 80 financial businesses, which is the lowest out of the 25 cities. Sadly, the only thing Middlesbrough ranks highly for is the unemployment rate: with a statistic of 7.5%, this city has one of the highest amounts of people out of work, only beaten by Newcastle-upon-Tyne with 7.7% and Birmingham with 8.5%.
Brighton
Brighton concludes our table, ranking last for the top UK cities for accounting jobs. Some may be surprised that Brighton has come in last place due to its popularity and culture, however this vibrant city has the lowest wages for accountancy. In fact, Brighton's wage for an entry-level position into accountancy is the lowest out of all the cities, paying only £20,751 – a huge £15,000 under the UK average. There aren't many accounting courses here in this seaside city, with only six available. It's pretty expensive to live here too. Brighton has a higher cost of living than Birmingham, Leeds, Manchester, Edinburgh, Glasgow and Cardiff.
How Can Virtual Cabinet Help with Accountancy?
Here at Virtual Cabinet, we're all about making working practices more productive and employees happier. We've created an accounting document management software and thousands of firms – big and small – trust us to help them make their business run smoother. We help accounting professionals more than any other industry. That's because accountants are usually drowning in tasks, such as client communication, filing, handling sensitive data and administrative paperwork – tasks that our software is really good at handling. We understand how tiring and frustrating administrative tasks can be, that's why our software can be tailored to suit your company needs. So, you can get on with the really important things, like securing new clients.
Methodology
To calculate the best city in the UK for accountants to work and live in, we researched the pivotal information people consider when deciding on taking a job. This includes factors such as: accountant salary, unemployment rate, cost of living, number of finance degrees, number of businesses and ratio of finance businesses. We then added a weighting to each factor of importance and scored each city in a ranking table.
Sources
*https://www.zoopla.co.uk/house-prices/london/https://www.whatuni.com/degree-courses/search?subject=financehttps://uk.indeed.com/career/accountant/salaries
https://www.expatistan.com/cost-of-living/
https://www.numbeo.com/cost-of-living/https://www.ons.gov.uk/businessindustryandtrade/business/activitysizeandlocation/datasets/ukbusinessactivitysizeandlocation