Develop Your Paperless Office Strategy and Make the Transition Smooth
Intrays piling up? Tired of all those files taking up valuable desk space? A messy desk often leads to a messy mind, and that stack of paper documents isn't likely to help. When running a business and completing tasks, you'll want to look for the best ways to streamline processes, cut down on costs and save time. That's where digitisation comes in. A paperless office is a tidy one, minimising the number of physical paper copies you have lying around. But what are the advantages of going paperless exactly? And what are the objectives of a paperless office strategy?
The Advantages of a Paperless Office Strategy
Of course, there are environmental benefits of going paperless and these are the ones you're likely to hear about the most. But there are other advantages of paperless offices to consider. Discover the paperless office benefits in our downloadable guide below, and start your journey towards digitisation today.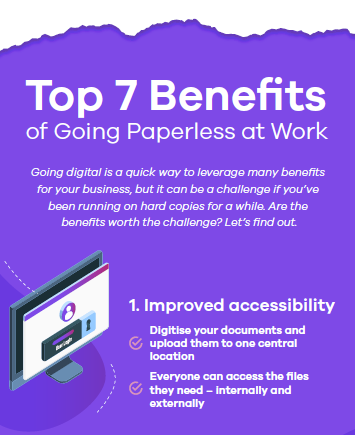 1. Going Green
As we've mentioned, the environmental benefits of going paperless are well-known. Both obvious and important, reducing paper consumption means doing your bit for the environment and becoming more sustainable as a business. So instead of sending that contract by mail or printing out multiple copies of the same business plans, upload your files electronically to cut down on paper. Because not only is a paperless office strategy better for your business, but it's also better for the planet.
2. Cutting Costs
One of the most important business advantages of going paperless at work is saving money. By digitising your business, you can save on costs of equipment for printing and storing your documents, as well as the costs associated with sending files to clients and external parties.
3. Freeing Up Space
Struggling for space? Stuck in a corner desk right next to the filing cabinets? As a growing business, you need all the extra room you can get. Filing cabinets, printers, and extra office storage take up valuable space. One of the advantages of paperless offices is cutting the need for these items, meaning more space for more people, so you can grow and develop your business.
4. Productivity
Boosting productivity in the office is always a compelling argument for any business and one of the advantages of going paperless at work is improving output. With a paperless office strategy, you ensure that all your documents are available to everyone who needs them – internally and externally. That means that you can avoid wasting time waiting for handoffs, the costs and time of delivery and minimising the risk of losing files. Team members can also work on the same documents simultaneously, streamlining content collaboration.
5. Improved Accessibility
By digitising your documents and uploading them to one central location, everyone involved can have access to the files they need – whether that's an internal colleague, a contact client-side or an outsourcer involved in a project. One of the key objectives of paperless offices is ensuring that documents can be found easily. When you run on paper, employees can waste a large amount of their time looking for the files they need and many documents will get lost. So by opting for a paperless office strategy, you can save everyone the hassle.
6. Advanced Security
One of the most important aspects of business is security, especially when it comes to your and your clients' data. With the right document management features, you can ensure that the risks associated with hackers and cyber-attacks are reduced. You can manage access controls and protect against data breaches with ease.
7. Saving Time
Too many people spend too much time on filing, organising, and searching for paper documents in the chaos – time that could, and should, be spent on more productive work. By choosing a paperless office strategy, you ensure that all your files and documents are stored in one central place – a digitised filing cabinet that can be accessed by anyone, at any time, anywhere.
What Is Your Paperless Office Strategy?
And there you have it, the top seven advantages of going paperless at work. Beyond that, digitising your business is the next step to fully transforming the way you work, streamlining workflows, and growing your company.
We've discussed the benefits of going paperless at work, but now you might be wondering how to go paperless to kick things off. With a document management system, you can move all your files to one secure, accessible place.
At Virtual Cabinet, we can help you on your journey towards a paperless future, drawing you away from hard copies and towards a digital workspace. Our document management software is the all-in-one professional office used by leading brands. Perfect for any industry and business, you can save weeks of filing documents and speed up your office workflows. Want to see how? Book your free demo today and speak to our experts. They'll help you identify your pain points and cater your paperless office strategy solution to you.