Work in the Accountancy Profession? We've Selected 6 of the Best Accountancy Podcasts Out There
Podcasts are catching on massively right now and not just for the evening entertainment hours. Podcasts are fast becoming one of the main ways we are consuming information. Professional podcasts are taking off in all industries and are a convenient way that people in those professions can quickly digest information and access insights from respected individuals and accounting leaders of thought.
Time efficiency and productivity are always a hot topic for professionals and podcasts play into that. Rather than reading a blog or scrolling through LinkedIn in the hopes of picking up the latest news for your industry, you can now listen to it in the car, on your commute, or even while you're working at your desk. This means you can get more done at once, and it's less demanding on the user compared to reading, for example.
So, if you're looking for a new podcast with insights into the accountancy and financial professions, look no further. Here are our top 6 accounting podcasts.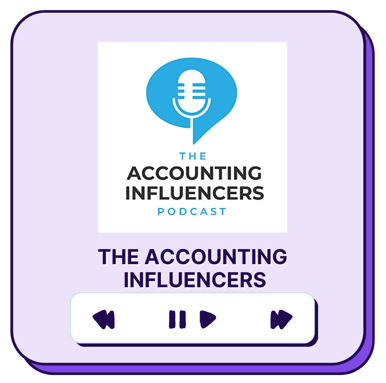 This daily podcast is co-hosted between the two founders of the Accounting Influencers podcast: Martin Bissett and Rob Brown. These guys are real standard setters of the industry. Their podcast features "accountancy and fintech news and commentary, practical 'what works' tips and expert interviews". So, if you are an accountant, CPA, or bookkeeping professional, you should definitely give it a listen.
Episodes range from over an hour in length to around seven minutes and like most podcasts these days, it's free to listen to, so why wouldn't you?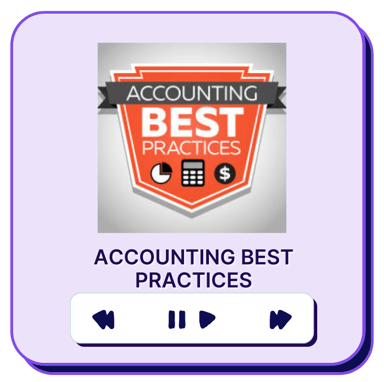 The Accounting Best Practices Podcast is brought to you by Steve Bragg of Accounting Tools and you can access it on their website, or via iTunes or Google Play. By the looks of it, this podcast has been going for a while with over three hundred episodes available to listen to at your leisure. New ones are released every two weeks or so and they cover topics like accounting standards, best practices, the biggest challenges facing finance teams, jobs, and industry issues.
The insights are great and if you can get over the jazzy lift-style piano music at the start, then the episodes are a good listen. Most episodes are between seven and ten minutes long, so it doesn't require a big time commitment from its listeners and with 5 million downloads it clearly has some useful insights that listeners love.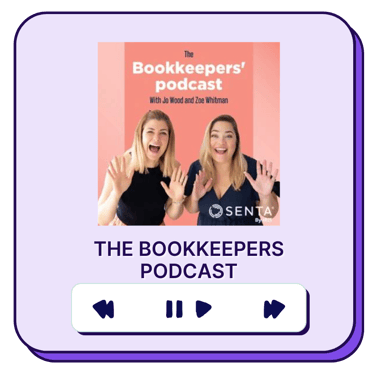 Jo Wood and Zoe Whitman co-host this podcast for bookkeepers and it's one the subscribers are loving. These two ladies lend a touch of class and well-timed wit to the bookkeeping sector's hot topics. You can listen to these engaging bookkeeping professionals weekly from Apple Podcasts as well as on other platforms.
Episodes range from twenty to forty minutes on average and discuss topics such as business growth, accounting industry shows and events, and personal development for accounting professionals. It's a wholesome and inspiring podcast for the ambitious bookkeeper of today and well worth your time.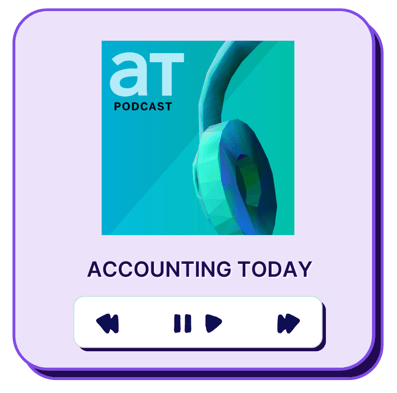 This is a weekly podcast from the US and focuses primarily on being a platform for "thought leaders from around the profession" to discuss the current issues and opportunities affecting the accounting profession. They're not too long for the morning commute but neither do they leave you feeling like you've just scribbled your way through two notebooks in a university lecture.
These informative podcasts usually measure between twenty to thirty minutes in length which is a good amount of time to really get stuck into the detail of the issue without frying your brain before you even arrive at the office.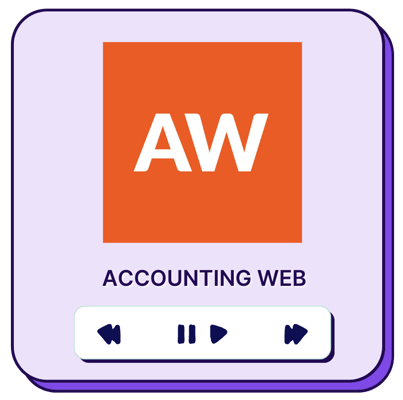 AccountingWEB is a leading online community and resource centre for accounting and financial professionals. Their podcast is a relaxed UK-centred podcast that publishes new episodes around three times per month and unlike other industry podcasts, they don't just focus on one topic per episode. Each episode is around twenty to thirty minutes long and will cover the latest financial news, as well as some other more long-term factors affecting firm owners and the profession generally.
There are a few different hosts who present this accounting podcast, so the vibe is never stagnant. You can listen for free on the Accounting WEB website, Podcast Addict, or Apple Podcasts.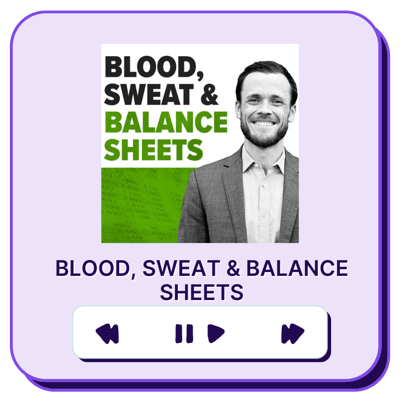 From FloQast comes the accounting podcast called Blood, Sweat, and Balance Sheets and we're loving it. As the title suggests, they keep things as light as possible while still looking at the cold, hard facts facing accounting professionals and finance teams. It's another US hailing podcast, but it's a refreshingly fun take on the often-stuffy business podcast market. Conversational, yet informative; this accounting podcast is for you if you're looking for entertainment as well as industry insight.
Episodes range from half an hour-long to over an hour, but they are well worth a listen. And it's work, right? So, you can probably convince your boss that it's a valid use of an hour of your workday…maybe. Good luck to you.
Final Thoughts
Podcasts have bridged the gap between several mediums of media like news, digital entertainment, and radio and it's no wonder they're becoming so popular amongst the young (or young at heart) professional market. They demand so little from the listener when compared to watching a video or reading an article and they can be streamed on any device which makes them extremely convenient. No need to carry around the financial times anymore when you've got endless realms of news and industry-specific advice in your pocket.
If you can't give up your get up and go morning playlist in favour of actual work-related learning then there are plenty of other times you might want to dip into a podcast, like when you're cooking dinner, taking a lunchtime stroll, or when putting in some time at the gym. Wherever and however you choose to play your podcasts, these six are sure to give you some great insight and information about the accounting profession.
At Virtual Cabinet, we just love accountants and it's by no means an unrequited love. Check out our accountancy industry page to see why accounting firms both great and small love Virtual Cabinet's Document Management System and our VC Cloud.
FAQs
Why Listen to Accounting Podcasts?
Many financial professionals choose to keep abreast of the progress and state of the accounting industry via informative and reflective podcasts. They typically do this in order to get an overall picture of the immediate financial forecast and to identify the future challenges their profession may face in the future.
Being proactive against, and preparing for, future obstacles is a tried and tested way of averting disaster for businesses and this is no different for accounting firms. Accounting technology and standards are constantly changing and evolving so in order to maintain a level of mastery in the accounting sector, accountants and bookkeeping professionals will have to undergo a degree of constant education.
Podcasts are convenient because you can listen to them practically anywhere on any device, and the information is always up to date, not to mention extremely digestible. The bite-sized nuggets of information are perfect for accessing vital industry news and insights between all your other tasks.
Many people find listening to professional, industry-specific podcasts to be a motivating and inspiring activity which helps set them and their companies up for success.
Is Virtual Cabinet Good for Accountants?
Virtual Cabinet is an industry-leading Document Management System that (unlike many of our competitors) integrates seamlessly with all major Practice Management systems used by accountants, financial professionals, and bookkeepers.
While we do not cater only to the accounting profession, we are the standard setters for exceptional secure, user-friendly, and dedicated document management in the accountancy sector. Find out more about why our accounting clients love us.