The Pharmaceutical Industry Deals With a Lot of Data and That Data Needs Efficient Management
As a whole, the pharmaceutical industry is highly audited, thanks to drug trials and confidential client data. This means there are certain files and prescriptions that have specific retention policies which must be adhered to – some pharmaceutical documents have to be kept long term, while some must be stored indefinitely.
The problem is that most pharmacies are managed out of small spaces with little or no storage for their files and papers – and it's no secret that these organisations also have hundreds of documents and prescriptions to organise at the end of each day. With additional HMRA regulations and pharmaceutical guidelines to abide by, some prescriptions can even be kept for over seven years. So how do they manage them? Where's the best place to store prescriptions and pharmaceutical files?
Whether it's an independent, hospital or chain pharmacy, or a pharmaceutical company working on developing new medication, they will accumulate vast amounts of paperwork each day. This can cause significant issues when it comes to the storage and retrieval of these files, from knowing where to file documents away to looking for specific data regarding a certain customer or prescription.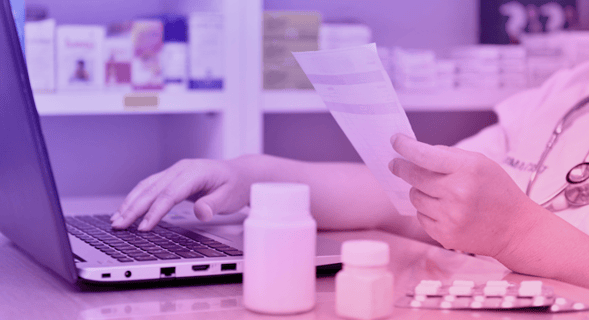 What are the Challenges of Pharmacy Management?
Outpatient prescriptions can be a huge problem for pharmacies. Most pharmacies will have hundreds of prescriptions to scan in at the end of the day – or worse, they might still keep the hard copies that they have no space for. There are many pharmacies still scanning their prescriptions in the old-fashioned way, that don't have much space to keep paper records or files.
Offsite, or cloud, archive storage can help to digitally index records, making them easier to retrieve and keeping them secure. Users can quickly access the information they need, as and when, straight from their devices, using a comprehensive search tool – making managing prescriptions much easier.
Digitising Pharmaceutical Documents
Digitisation is a phenomenon that's spreading across all industries, encouraging businesses to integrate tailored software solutions into their existing working infrastructure. Now, it's making its way into the pharmaceutical industry and the processes behind managing prescriptions. Companies are taking their processes into the digital space to keep up with the demands, changing the way that they work and store their data while helping to support risk management in pharmacy environments.
The software market for the pharmaceutical industry is vast. From pharmacy inventory management systems to quality management systems, there's something for every activity required within a pharmacy. However, a key part of pharmacy management is a DMS (document management system). Whether you're looking at inventory management, general pharmacy activity or drug trials, there's a vast amount of documentation to manage. As with any other industry, pharmacies must also follow strict regulations when it comes to customer data and other private information. Therefore, it's key that all software is secure and well-managed. What's even better is when pharmaceutical document management systems can integrate with the other software solutions, creating a unified, secure approach to pharmacy management.
The Advantages of a DMS for Pharmacy Management
A document management system is a key component of successful pharmacy management – and the base of digitisation for any business or organisation. At Virtual Cabinet, we understand the need for a document storage solution that is safe and secure. Our document management storage solution is suited to a wide range of industries, including those in the pharmaceutical sector.
At Virtual Cabinet, we have set up a bar code scanning function that allows pharmacies to digitise their paperwork. All they need to do is scan their prescriptions with a Fujitsu scanner, while we read the barcodes using the bar code reader software, before filing them into Virtual Cabinet and linking them into the TMS (back-office software) back to the patient ID record. This solution saves over an hour each day of scanning and filing the prescriptions away manually.
Generally, there are three classic 'outpatient' prescriptions, with a bar code label situated in the top right-hand corner – this is what the TMS generated through the prescription tracking software. Each bar code is unique to the patient, date, and prescription combination. Virtual Cabinet can then use the bar code to link the prescription back to the patient, filing all of the data and images into the document management software for more efficient, organised storage.
We tailor our software to your needs while providing a secure solution to pharmacy management. Interested in finding out more about how you can better organise your pharmaceutical documents? Book a free demo with us today – our pharmacy management experts will answer all your document management questions. Our software solution is designed to help you manage your work while keeping to strict pharmaceutical guidelines.