Strategies and Ideas to Make Your Business More Sustainable
The past few years have seen climate change go from being something of an afterthought to becoming one of the defining considerations in business decisions at all levels. You can see it globally across organisations of all sizes and in all sectors. And the accounting profession is no different.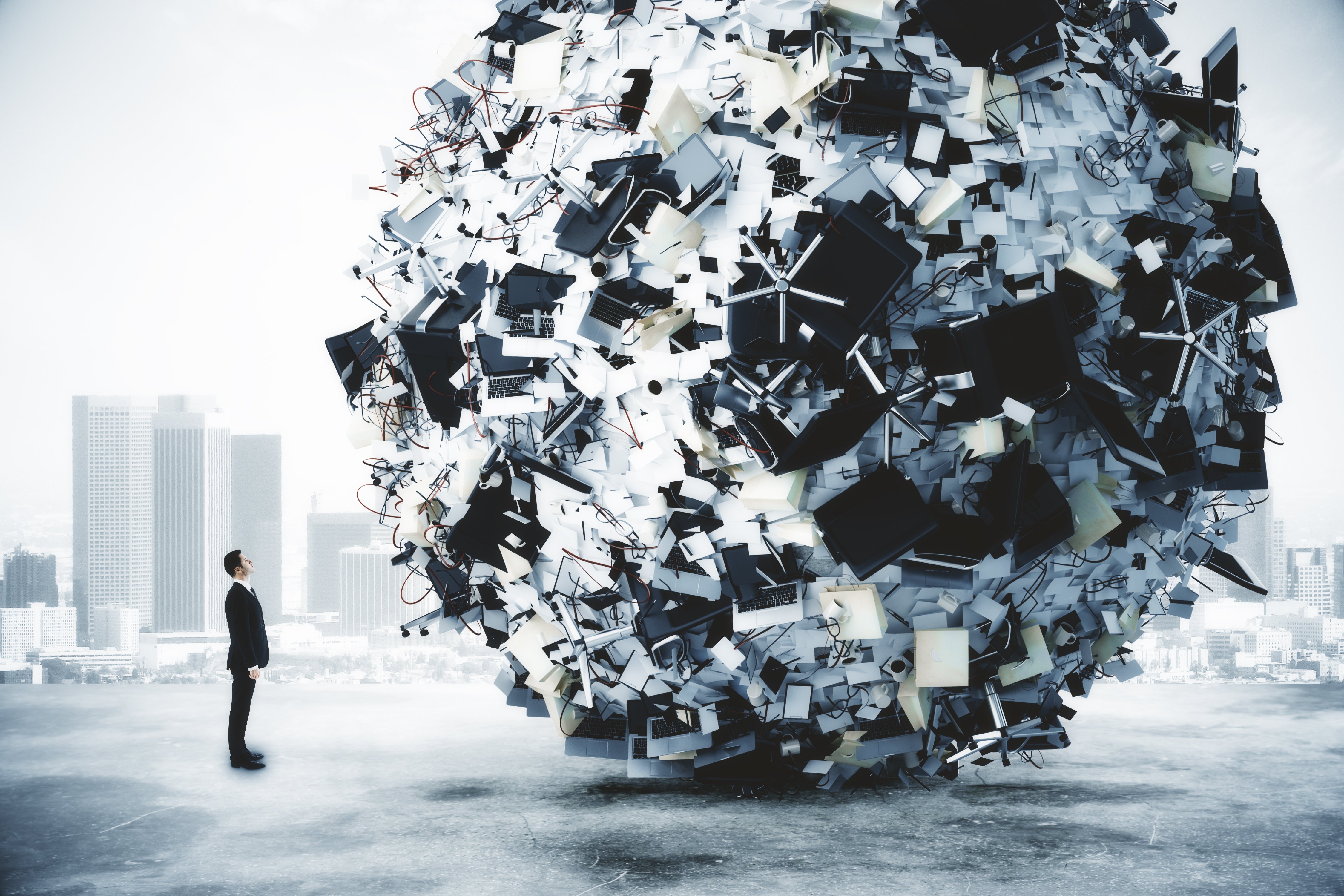 In the run-up to COP26 (the UN's Climate Change Conference), the Association of Chartered Certified Accountants (ACCA) conducted a survey of 3,000 accountants and finance professionals. It found that the accounting community were more than willing to put on their sustainably-sourced masks and capes to become planet-saving superheroes, with 75% saying it was important for accountancy and finance teams to be involved in supporting the companies they work for to deal with climate change.
There's clearly a desire for change. But what can finance departments do to help now? How can accountants contribute to sustainability on a departmental level? And can the number Gods ever truly adopt sustainability in accounting standards that value environmental performance over financial performance?
How Can Accountants Contribute to Sustainability?
It's clear that sustainability accounting is on the radar for the vast majority of accounting firms, but how can accounting professionals and firm owners go about making their work processes more environmentally friendly and future-proof their practice? Here are a few practical ways those in the accounting profession can make greener choices.
Are Your Servers Being Powered by Green Energy? They Could Be!
Think of the most demanding person in your office. Your server will probably beat them hands down in terms of resource consumption. Though file servers play a critical role in business infrastructure, they generate lots of heat and therefore must be kept cool with air conditioning. Let's not even mention the energy that powers all those sci-fi-looking flashing lights on the server tower. Even if you use a hosted server for your accounting firm, there are providers who specialise in running their hosted servers on green energy. And for your office in general, the good news is there are lots of green business energy suppliers out there.
James Lizars of Thrive Accountants spoke at Accountex 22 in the panel seminar entitled Grow Greener. He said that "if you focus on social and environmental rather than financial motivations, we'll start making better decisions for the long run." His small South-East accounting firm has made a phenomenal commitment to the environment with a million tree pledge. Their firm has only 7 individuals and if they are able to make a real difference, then so can you.
With a green energy supplier, you could not only make the way your server is powered more considerate of the planet but also make your business more sustainable with renewable power across the board. Your energy comes from somewhere, and we're quick to think about that at home more than we do at work, but that needs to change.
Host Meetings Over Zoom, Google Meets, or Microsoft Teams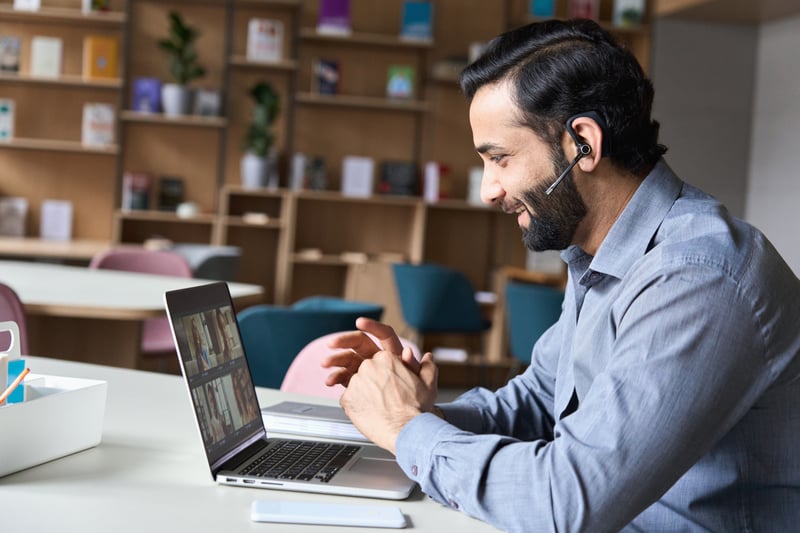 The pandemic taught us many things. Some of them were incredibly positive (yes, really!). Like the idea that almost any meeting can be hosted with participants in just about any part of the planet - provided there's good internet, of course. Overnight, face-to-face meetings became much less of a necessity and cut out the need for long drives, train rides, or flights for meetings. The environmental impact of the 'Stay at Home' guidance was extraordinary and so going back to 5 days in the office should be considered carefully.
If you have clients you need to speak to and it's not imperative you meet in person, you can do your bit for the planet simply by sending a Zoom, Google Meets, or Microsoft Teams invite instead of calling an in-person meeting. It'll save everyone time and money and reduce your organisation's carbon footprint by a significant amount when added up over the year. Embracing a hybrid working model for you and your employees too can save on travel costs and carbon emissions. It would be even better if you all had established days when none of you were to come into the office to save on heating and lighting the office one or two days a week. That could make a big difference to both your financial statements and the planet's health.
Go Paperless
Traditionally, accountants have always used loads of paper - reams and reams of it, and ink at the speed of a frightened squid. Advances in technology mean that this doesn't have to be the case. Document management services, like Virtual Cabinet, mean that all paperwork can be created, sent, stored, and even signed digitally.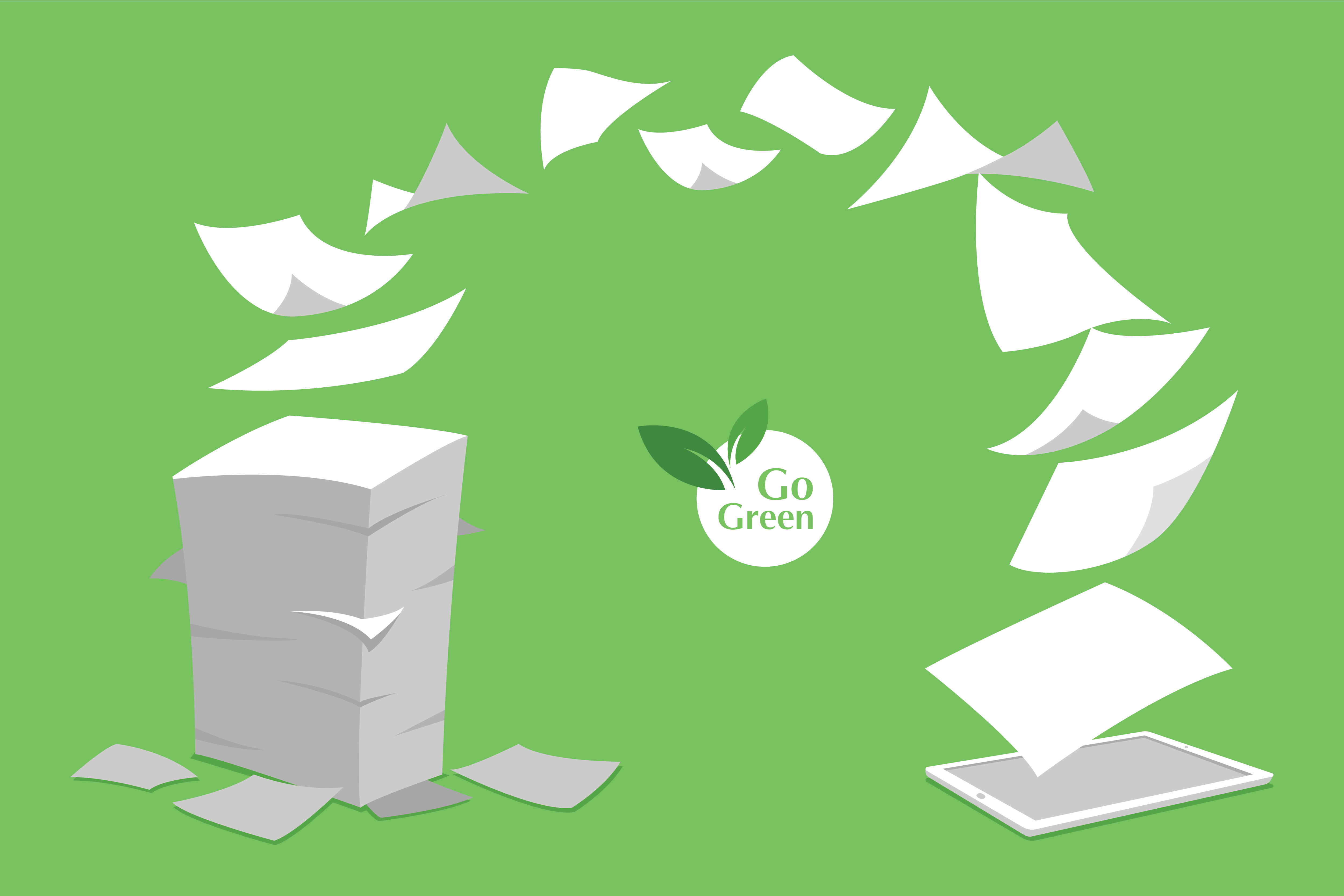 There's no need to print off every piece of paperwork so you can file it, or send it via post. Not when you and your colleagues can retrieve it from your virtual filing cabinet and send it through a secure client portal, instead. This not only saves you (and your clients) time and energy, but it also saves on the cost of printer ink, paper, and postage to boot. If the main obstacle to your firm going greener is the fear of lost money, it shouldn't be. Not only does a digital document management system like ours make your hybrid or remote working business more convenient, but it also saves on waste and money. It really has no downside, for you or the environment.
Educate Your Colleagues and Clients
As trusted advisors to businesses, collectively accountants have the ear of the majority of the nation's SME companies. We could, and should, use that to the advantage of the world. Making your green ethos known via your website, social media, or by good old fashioned conversations will help to encourage other enterprises to consider their company's impact on the planet too.
As we've already said, implementing green initiatives in the workplace doesn't have to wind up costing you money. If 75% of accountants are actively interested in environmental sustainability, then the chances are that plenty of other sectors will be too. The Cloud Industry Forum (CIF) claims that 84% of businesses they interviewed said that ESGs were an important consideration when choosing a cloud vendor. With that in mind, it would make sense for ethics and eco-conscious motivations to make a difference when clients are looking for other vendors of products or services, like a new accountant.
James Lizars said explicitly that "new client relationships have come to us specifically because of how we approach the world". By which he means that because he has made eco-conscious decisions for his business, he has attracted new clients as a direct result. This is proof that focusing on your company's sustainability report, does not have to negatively reflect in your financial reporting.
Final Thoughts
So, how can accountants contribute to sustainability? In many ways. Some are bigger and harder to implement than others. Procedures like going paperless and switching to green energy will take some time and planning to achieve but are well worth it in the long run. Other ways to make a difference to your corporate carbon footprint are much more easily achieved, like committing to hosting meetings online, donating to green community initiatives, implementing a food waste bin in the break room, and putting sustainably sourced paper in the lavatories.
In the most basic terms sustainability has to mean no more to you than this: What resources do you and your business consume? Where does it come from, and where does it go when you're done with it? These three questions are your main key performance indicators when making eco-friendly business decisions. Take stock of what your business consumes and then consider how you could make better decisions for the future. Soon, you'll be the green guru on the subject of sustainability in accounting.
Interested in switching to online document storage to make your business more sustainable? Sign up for a free Virtual Cabinet demo today!
FAQs
How Do I Go Paperless?
Deciding to go paperless is a big decision for any accountancy practise or firm. Just looking at the half a dozen filing cabinets currently containing your company's paperwork can make you want to push the thought right out of your mind, but going paperless is not as hard as you might think. For one thing, it doesn't involve going through all your historic paperwork in one go. Sorting through the years of paperwork can be done gradually, and you can solicit help from other departments. Don't try to do it alone.
Generally, the things you need in place before you start your paperless journey are:
A reliable scanner to capture the physical documents you want to keep.
A Document Management System in which to store future files and the PDFs of the soon-to-be-scanned files.
An idea of which GDPR policies apply to your documents so you know which must be destroyed.
Tea, coffee, and cake. OK, well you don't strictly need it, but it'll help you convince your colleagues to help in your endeavours.
Once you have all of these things in place, you are ready to start your paperless journey.
Our best tip for you is not to put it off. It might seem like a lot of effort, to begin with, but the longer you go without digitising your documents, the more of them there will be for you to go through when you eventually do start your digital transformation.